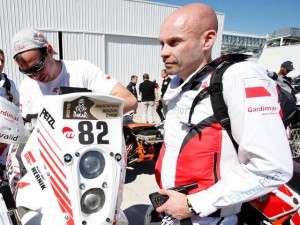 The Polish bike rider Michal Hernik (no. 82) was found dead on the selective section of the third stage of the rally Dakar 2015 between San Juan and Chilecito at kilometre 206. The circumstances surrounding his death have yet to be determined, as the competitor did not show any external signs of an accident.
When the race management detected the loss of his Irritrack signal and was informed that he had not completed the special stage at 15:16, it decided to start a search for the rider at 15:23. An ambulance helicopter found the rider 300 meters off the route at 16:03. Unfortunately, the on-board doctor could only confirm the rider's death.
At 39 years of age, Michal was taking part in Dakar 2015 for the first time and he was in 84th position in the general ranking. He had previously participated in the Abu Dhabi Desert Challenge in 2014 and the Morocco Rally in 2013, both of which he completed.
Michal Hernik was a part of a trio of friends, with a dream of doing the Dakar 2015. Their names: Pawel Stasiaczek, Michal Hernik and Norbert Madetko. All three knew that to live their dream, theyfirst had to prepare for it. They first decided to travel to Africa to witness similar terrain to whatthey would have once on the Dakar. Morocco, Mauritania, Mali or Burkina Faso were just a fewof the countries visited by the enthusiastic Poles. Then came the choice of bikes and theyturned to real pros, eventually acquiring KTMs from Marek Dabrowski and Jacek Czachor. Afternicknaming their machines Cizia, Zike and Baby, it was time to race. After competing in Abu Dhabi, they were all set for the Dakar 2015. Sadly only two were on the start line in Buenos Aires: Pawel and Michal.
"Getting ready to Dakar took us two years. But we don't know what awaits us during this rally. It is difficult to evaluate because our references come from the rallies we competed in Morocco and Abu Dhabi. The Rally of Morocco is very similar to the Dakar in terms of terrain. The difference is that it only lasts six days, that's basically three stages of the Dakar. In terms of amateurs, our goal will be to complete the rally whatever the position. That would be our success. Our most powerful asset is our friendship and mutual support in difficult moments after heavy days. This is due to our common dream and the adventure we lived to prepare for the Dakar. Our weakest point will probably dealing with the emotions and stress of such an event.", said Michal Hernik before the start of Dakar 2015 rally.
The whole Dakar family offers its condolences to Michal's family, close friends and team.