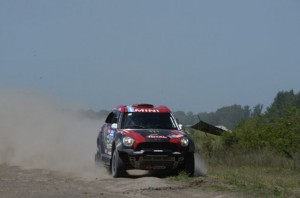 Sam Sunderland was the fastest at the end of an opening special of Dakar 2015 just 175 km long, beating Paulo Gonçalves (Honda) by a really slim margin to claim first win of the year for KTM. Nasser Al-Attiyah was really speedy, trying to beat Orlando Terranova by 22 seconds in the car category, but penalty send him on 7th place and now the leader is Terranova. Nani Roma, on the other hand, saw his title defence prospects evaporate.
Despite a streak of bad luck during his first two Dakar starts with Honda, Sam Sunderland showed glimpses of his speed when he took the second stage of the 2014 edition. He made good on this promise during the opening stage of Dakar 2015 from Buenos Aires to Villa Carlos Paz, in which he took his second stage win in the biggest rally on Earth. Reunited with his KTM after its transatlantic crossing, the Englishman masterfully used his motorcycle's qualities to steal the thunder from teammate Marc Coma, who finished the stage over a minute back. He now has good reason to reassess his goals, although the 25-year-old knows that the race is long and the competition will be fierce. Paulo Gonçalves, for instance, wants to make amends in South America. The Portuguese 2013 rally world champion broke down in tears when his Honda burst into flames during the fifth stage of the 2014 Dakar.

Stage 1 – Car/Bike – Stage Summary – (Buenos… by Dakar
With a narrow five-second deficit to Sunderland after the inaugural stage, Gonçalves is determined to do well, just like Coma, who aims to crush pretenders to his throne. The Spaniard, third in today's stage, will not have to deal with Cyril Despres, but he will have to keep a watchful eye on fourth-placed Joan Barreda. Alain Duclos and his Sherco finished in fifth place, two minutes behind the winner but ahead of Jeremías Israel and fellow countryman David Casteu. There was also a stunning rookie performance by motocross rider Matthias Walkner, who clinched a solid eighth place in the warm-up stage.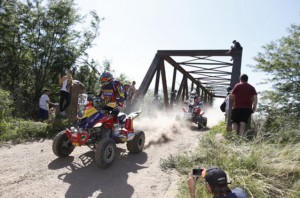 Ignacio Casale was unfazed by having to open the road on a highly rolling first stage, and he immediately proved he still has what it takes, one year after his maiden Dakar victory. The Chilean already has a one-minute margin over last year's runner-up, Rafał Sonik, with Sergio Lafuente rounding off the provisional podium of Dakar 2015, with no surprises after 175 km of racing. Mauro Almeida sits in fourth place in his second Dakar start, about twenty seconds ahead of Qatar's Mohammed Abu-Issa, fourth in his Dakar debut and ready to set his sights on loftier goals in 2015.
Dakar rally cannot be won in the first stage, but it sure can be lost. A tough lesson for defending champion Nani Roma, who had to stop after tackling a bump a few kilometres into the special. The Spaniard stopped for several hours, and it would take a miracle for him to win in Buenos Aires. The other side of the coin is that Mini is in front of the rankings, but those of Orlando Terranova. Actually, Nasser Al-Attiyah was the fastest on the stage and finished first with 22 seconds in front of Terranova, but the Qatari was fast also outside the race track, which brought to him 2 minutes penalty.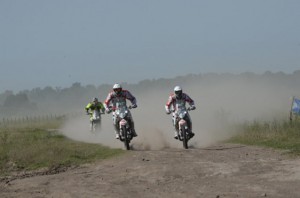 Robby Gordon, still looking for his maiden overall win after taking several stages, sits in second place, one minute behind the winner, while Giniel de Villiers (Toyota) also has good reason to be hopeful with the 3rd position in the rankings. The eagerly awaited Peugeots had a so-so start to the Dakar 2015, with Carlos Sainz in eighth place, two places ahead of Stéphane Peterhansel, who probably was expecting something more from his debut with the brand of the lion. Cyril Despres, on the other hand, has already lost 10 minutes to the leader.
The Kamaz dominance in the trucks category was broken in the fast opener, with a thrilling duel between Dutchmen Hans Stacey and Marcel van Vliet in which the former came out on top. The Iveco driver, who has podiumed three times so far, is adamant that he can win in Buenos Aires. Aleš Loprais rounded off the top 3, a mere 47 seconds back. And the first Kamaz truck (driven ba Mardeev) came to the finish line on 6th place.
Today, the second stage of Dakar 2015 will bring the competitors to San Juan. The special stage is one of the longest this year – 518 km for cars, bikes and quads and 331 for the trucks.